Keeping Score
by Michael Callahan
"My schedule is keeping pace with me
instead of me trying to keep up with it..."
---
For the Call of Duty: Above & Beyond
Over the years, I've looked at a wide variety of personal information managers, also known as PIMs. Part of the reason is personal - I have a horrendous schedule to manage on a daily basis. I have to get dozens of things done, and it's nice to have those things laid out in some kind of Order. The biggest problem I've found with many personal information managers is that they tend to be very inflexible. They want me to enter the exact time an activity will occur. That looks good on paper, as they say, but life simply isn't like that. Think about it.

I may know what my schedule is and what things I have to get done on any given day. This includes what meetings I have to attend, what phone calls I have to make, what articles I have to work on, and what doctors appointments I have. But that isn't the problem. The problem lies in the things I don't know about. The people who'll call me on the phone, an unexpected run to the store for Fax paper, being asked to do a magazine interview, and many more things. It doesn't do a bit of good to set up an exact schedule if you can't foresee all of the variables that can crop up in the course of your day. Above & Beyond solves this problem brilliantly! It allows you to make a schedule that "floats" according to your needs. A schedule that's as flexible as your day needs to be. It let's you assign priorities and deadlines, set up meetings, keep notes, and much more. Let's take a look at this program. Batter up!

---
Supporting A Flexible Schedule
Above & Beyond offers many features, including multiple user access, password protection, archiving of completed schedules, private items, and memos. It offers tools such as a dialer, timer, notepad, and an address book. It even allows you to add tools of your own. It's greatest feature, however, is the way it allows you to manipulate your schedule.The program handles fixed and floating items. If you assign a specific time to a schedule item, it becomes fixed. A meeting, for example, would have a fixed start time, say 2:00 p.m. Yet nearly everyone has chores or appointments that don't have to be done at specific times or even on specific days. If you don't assign a "start" time, the item becomes a floating item. It flows along with your schedule, fitting in where it can as your day progresses. You can give items like these a range of days over which they can be completed.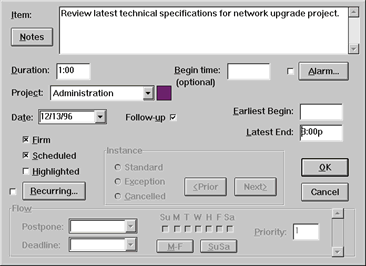 Figure 1. The Insert Item Dialog Box



Figure 1 shows the entry window for creating schedule items. Note that you can enter a description for the item as well as a duration, or how much time this particular item should take. Leave the begin time blank and the item floats. Turn off the 'fixed' option and you can now move the item to different days. Look at the "floating" section at the bottom. As you can see, you can establish a deadline - a date by which this item must be done. You can tell the program whether this item should only be handled on weekdays or if weekends should also be included. Click on OK and the item will be placed in your schedule. You can move it around with the mouse cursor to a time slot where you want it, or you can drag it over to another day. Alarms can even be set to remind you. Perhaps the best way to understand the concept of floating items is to look at an actual schedule.

---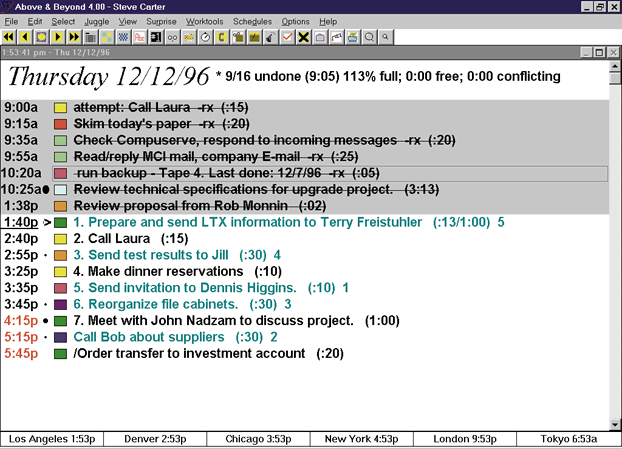 Figure 2. The main screen of Above & Beyond 4.0
Smoothing Out Your Day
With other PIMs, you usually start goofing up your schedule the first time an unexpected event happens. Say you set an item for 10:00 a.m. to "Write Double-Header," but at 9:58 a.m. you get a phone call. You get off the phone at 10:20 a.m. and now your entire schedule is a mess. Not with Above & Beyond! Look at Figure 2. Notice how the times listed are not round numbers? That's because my schedule is floating along with the course of my day. Look at the highlighted item: "8:11a Finish SIA nominations." Now look at the top of the screen just under the tool bar and see what time this caption was taken. At exactly 8:11 a.m. Perhaps the note about the SIA nominations was originally in an 8:00 a.m. time slot. Then something came up, but because it's a floating item it moves down the schedule by itself. And so does every other floating item for the rest of the day! Fixed items maintain their position in the schedule. Really slick and very handy. My schedule is keeping pace with me instead of me trying to keep up with it.
---
Working With Your Schedule
Above & Beyond gives you several ways to view and manipulate your schedule. Under the View option on the menu bar, you are given choices like:
Single Schedule Window
Priority List
Alphabetical List
Multiple Schedule Window
Week at a Glance
Month at a Glance
This gives you different ways to view your schedule in Order to help you make the most sense out of it. Above & Beyond also lets you choose how you want your schedule displayed by offering horizontal tiling, vertical tiling, or quad tiling. You can archive completed schedules, which are saved in a history log file by month, like MAR93.LOG. You can view this history at any time and search for items that you completed in the past. This file shows the date, the scheduled time, the amount of time, and what the event was. Helpful for backing up your claim, "Of course I finished that!"

Above & Beyond lets you attach notes to every schedule item. This is great when you have to talk with someone about several things or make notes while you talk with them. On your schedule it might say "Call Bob re: Meeting" - but in your notes you can list all of the things you want to remind Bob of. You can even time and date stamp your notes so you know exactly when the note was written or a task was completed.
---
Balancing Your Work load
If your schedule begins to get overloaded, Above & Beyond has options to help you out. For example, you can tell the program to automatically roll over any unfinished items in your schedule to the next day. Another factor to consider is balance! Many of us will sit down and enter schedule items for a week and then try to cram all of them into a couple of days. Above & Beyond can help you to take advantage of this by using a very special scheduling style. An option called "Balance Work load" does the trick. Click on this option and Above & Beyond analyzes your schedule items and spreads them out over your schedule, using the parameters you specified for each item. For example, if you have ten items that can be completed over the course of five days, why have them all crammed onto one day? When you select "Balance Work load" it may move some of these items to different days, thereby making your schedule less crowded on any one day. A great feature.
---
Summing It Up
Above & Beyond is an excellent program that's been carefully thought out. This is the handiest PIM I've ever used and I find it invaluable in keeping my schedule manageable. It keeps a history, it keeps my notes, and when things look really grim, it helps me to balance my schedule. A beautiful piece of work by the folks at 1Soft Corporation. Because of the program's high quality, many features, and unique approach, I'm pleased to give Above & Beyond the Shareware Magazine Editor's Choice Award for excellence. If you use Windows, and have any kind of schedule to manage, this is the program to get! I recommend it highly.



Back to Reviews


---
Home || Above & Beyond || Customer Support || Download || New
About 1Soft || Contact 1Soft || Employment